Digging Deeper into 2018 Mac minis at MacStadium
The 2018 Mac mini advanced performance and power. MacStadium re-engineered our racks for heat management, networking, scalability, and more. See how.
The 2018 Mac mini represents a multi-generational advancement in the power, performance, and I/O capabilities of Apple's small form factor desktop. This is great news if you're building or testing complex apps, hosting databases in-memory, or storing large data files! However, it also necessitated (and provided an opportunity for) a completely clean slate for not just our patented Mac mini sled, but the infrastructure around it, to provide an optimized experience when utilizing these powerful new Macs for CI/CD, macOS virtualization, and testing, or whatever other use cases you can dream up. At MacStadium, we pride ourselves on being the industry-leading experts in hosting Apple hardware, so we put our expertise to the test to ensure we can provide the most enterprise-grade, scalable Mac hosting experience possible.
First, let's take a look at the specs: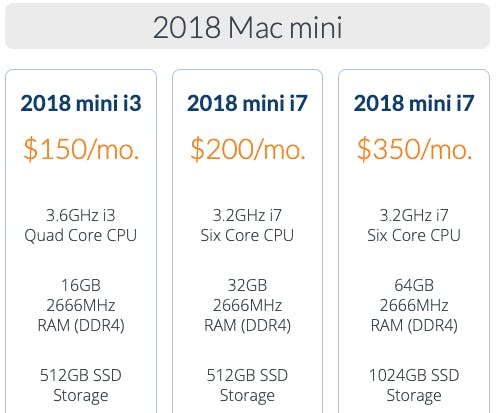 *Standardized configurations. Additional configurations and options available–consult with our sales team for options.
Here are the high-level benefits of the 2018 Mac mini:
Higher-powered Intel CPUs, up to 6 Cores/12 Threads
Intel UHD 630 Graphics
High-Frequency DDR4-2666 Memory, up to 64GB
Blazing fast PCIe-based storage, up to 2TB
A redesigned thermal management system with twice the airflow
Optional 10-Gigabit Ethernet
All that extra computing horsepower is great, but when you're deploying Mac minis at scale, this introduces additional challenges; power delivery, thermal considerations, and network connectivity all necessitated a thoughtful redesign of the components.
Scalability
We built our new virtualization solution for macOS, Orka, with the 2018 Mac mini in mind. Scale a cloud from four nodes to infinity with ease. Orka allows you to utilize a Mac cloud as easily as you would with other cloud providers like AWS, Azure, or GCP. If you don't need virtualization, MacStadium can build clouds with bare metal Mac minis that are also infinitely scalable. Our Mac mini racks are space-efficient so we can deliver the best, most cost-effective Mac cloud solution possible. If you're curious how we did it, keep reading.
Power Delivery and Thermals
The 2014 mini topped out at 85 W of PSU capacity. The 2018 mini nearly doubles that to 150 W. When you're trying to safely deploy as many minis as possible, as tightly as possible, this is a concern. More power is great, but with great power, comes great heat generation. Our independent observations have shown that 8 minis can pull up to 4A at 208V. In other words, 832 W. That's more than a horsepower (1.116 hp)! We utilize redundant Automatic Transfer Switches in our racks, ensuring reliable and clean power for 24/7/365 availability of your MacStadium Mac mini infrastructure.  
Our new Mac mini sleds have a high-density design that allows 16 independent minis to safely operate in just 5U of standard 19" rack space. When we first began installing 2018 minis into our legacy racks, we realized that the non-standard racks provided insufficient cooling assistance: when under heavy load, the minis could begin to thermally throttle their performance in order to stay within their thermal envelope. Exactly what you don't want when trying to extract maximum performance for compiling that latest build. Our tests indicate that a 2018 Mac mini operating at 100% for an hour can begin to throttle. Before we invested in the re-design of our own proprietary solution, we took a moment to evaluate the leading off-the-shelf rack mounting products available on the market. Our internal lab testing, performed even at a single rack-scale, demonstrated not only significant issues with thermal throttling but several cases of thermal failure under consistently high workloads. Our engineers quickly coined the term "bacon pans" and got back to work solving the problem.
We went back to the drawing board, well, back to Solidworks, designing a new, higher-density, better-sealed sled that allows us to realize the benefits of hot aisle/cold aisle airflow containment within the data center, provide more efficient cable management/routing, easier installation, and additional security for external HDD installs, and optional active per-sled exhaust fans.
This new sled ensures cold air ingresses where it's supposed to and flows over as much surface area of the mini's chassis as possible, egressing on the hot side quickly with minimal stalling.
Other environmental upgrades to the racks include remotely managed PDUs that can monitor local humidity and temperature levels, in addition to all the standard PDU functionality (Power On/Off/Restart), as well as remote sensors that monitor inlet and exhaust air temps. This allows us to identify issues more quickly and prevent them from becoming problems. New rack sled = less heat = increased longevity and performance for your 2018 Mac mini.  
Networking
When we heard the new 2018 Mac mini was going to support 10-Gigabit Ethernet (GbE), we were incredibly excited. Finally, an enterprise-level interconnect for a machine capable of chewing through some serious IOPS! But then we realized, the PHY being capable of 10GbE is only one component of the solution–the whole network stack needs to support best-practice, modern, high speed interconnect in order for our customers to get the most out of their new, high-performance Mac minis. So, we went back to the drawing board there, too.  
Our new 2018 Mac mini racks support full 10GbE to each port via shielded Cat6a, with TOR switching in a spine/leaf topology–the same network setup we use on our 2013 Mac Pro racks. Each TOR has at least 4x40GbE uplinks to core routers connected directly to fiber from Tier 1 and select Tier 2 providers. This means the full bandwidth of your new 10GbE mini is available to you on the open internet–not just in our data center.  
Conclusion
Developing enterprise solutions for deploying Apple hardware to high-performance data centers is core to MacStadium's business. We've invested considerable resources unlocking the full capacity of the 2018 Mac mini to improve macOS workloads for our customers. Our dense, optimized, high-bandwidth SOC1 data centers are ready to spin up a Mac mini for you today!
…and catch our webinar: Digging Deeper with the 2018 Mac mini
Want to learn more about 2018 Mac minis at MacStadium? We're hosting a webinar on April 22 at 1 PM EDT. Join MacStadium's VP of Product Management, Kevin Beebe as he discusses what we've learned through this process. From heat management, cost-performance, orchestration, and management to the infamous T2 chip. If Mac minis are part of your business infrastructure, you'll want to hear what we've learned about this exciting platform. Click here to sign up now!
‍