Making the Most of Your Orka Demo
The Orka demo gives you two hours of playtime to experience the power of Orka. Here's how to get the most out of your demo environment.
The Orka demo is live! We've put together the following to help you more easily mock up workflows that seem like they may be a good fit for your CI needs.
What is Orka?
Orka (Orchestration with Kubernetes on Apple) is a new virtualization layer for Mac build infrastructure based on Docker and Kubernetes technology.
What makes Orka special?
It brings macOS and iOS CI into the modern age by integrating industry-standard containerization solutions Kubernetes and Docker into a Mac environment – something that hasn't been done before.
What to expect during the demo:
This video walkthrough will give you the rundown on what is available in the demo environment, and how its various pieces fit together. To get started with a demo environment of your own, visit tryorka.com to get a login token. You will be able to step through the basics (as shown in the video), then have two hours to play around.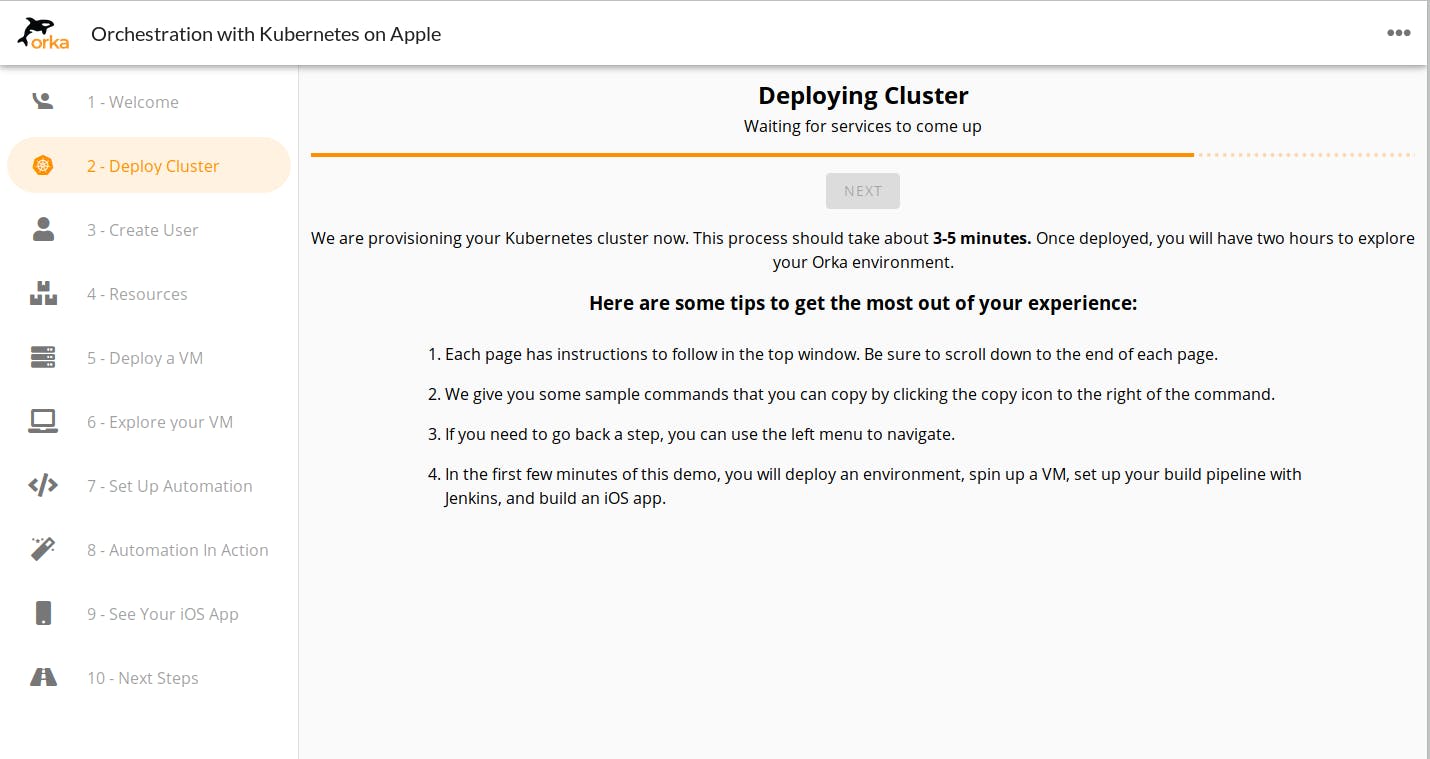 To learn more about Orka's CLI and what you can do with it, check out5 Key Features in Orka's CLI for iOS and macOS Virtualization.

The following command is conveniently baked into your demo environment, so you can just copy and paste your way to a newly created Orka VM.
When prompted by the demo at Step 7: Set Up Automation, you'll want to navigate to the Manage Jenkins > Configure System view.

There, you'll set up the Orka Plugin for Jenkins. To set up the Orka Plugin for Jenkins in the demo environment, click Add (next to Orka credentials). Select Jenkins.
In the Username and Password fields, type the email and password you created as Orka credentials when you set up your Orka user. Set Description to Orka credentials and click Add.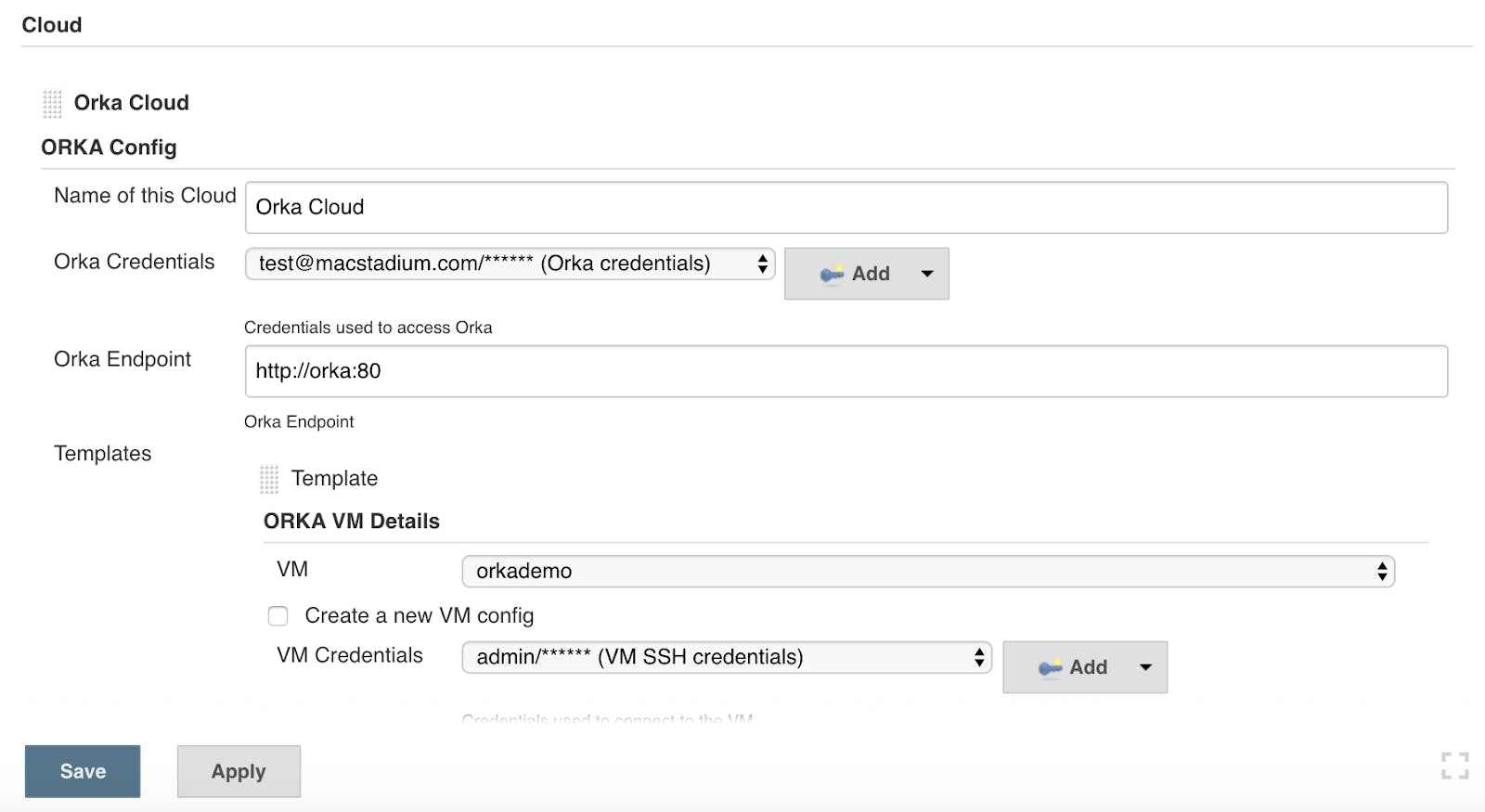 From the Orka Credentials drop-down, select the newly added Orka credentials.
When you've finished with the above, you will have a Pipeline named Orka Pipeline. To go ahead and kick off a build, just click the Build icon at the far right of the row. To learn more, or to make changes to  Orka Pipeline itself, simply click on the hyperlinked title.

You will then have access to general information about the pipeline, build triggers, advanced properties, and the pipeline definition itself. This is where the demo's baked-in repo and build stages are defined, and likewise, this is where you can change said definitions.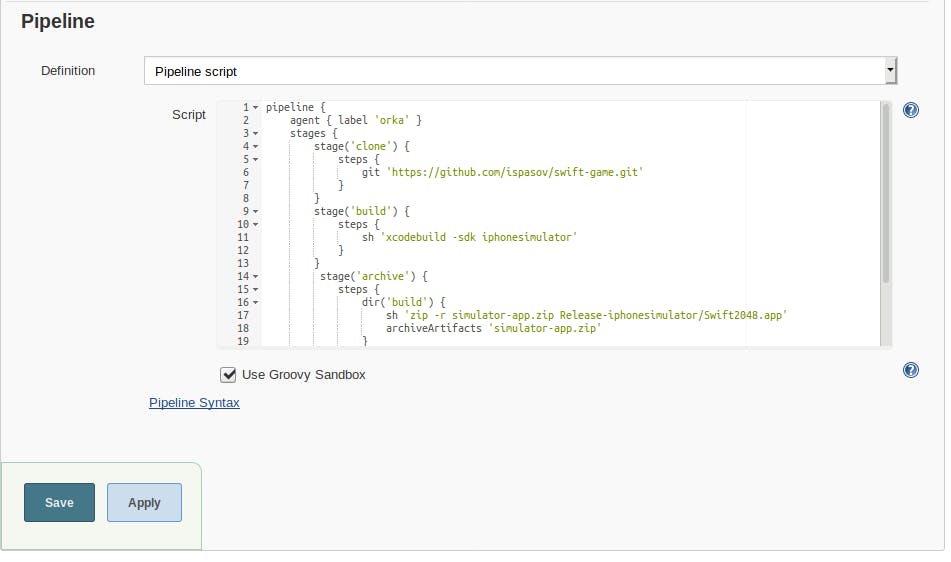 For starters, let's run the built-in Jenkins Pipeline. Then, we can pop back over to the VNC view and see our build in progress.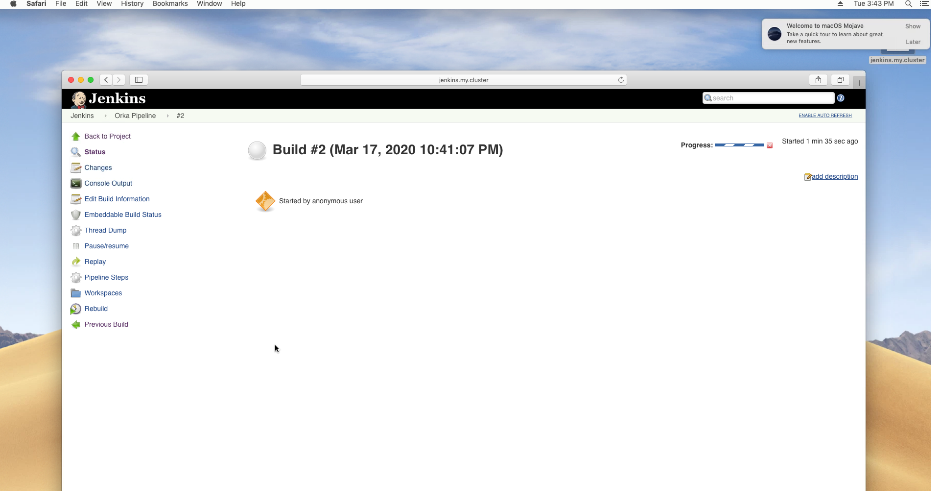 Want to hear more about Orka? Reach out, and one of our Sales Engineers will get back to you to discuss all your Orka or Mac Infrastructure needs! Just email us at sales@macstadium.comor by filling out the form here.