Macs are getting new housing and headgear at MacStadium
Exciting things are happening in MacStadium's data centers! KVM helmets and new custom racks don't just make our data center techs' lives easier. (Although we won't lie, that's a big perk for us.) They pave the way for truly automated Mac cloud environment creation and management for all MacStadium customers. Read on to learn how our team brought these innovations from imagination to creation.
Mac data centers have always been necessarily different because of Apple's consumer-oriented equipment. Remember the classic 2013 Mac Pro "trash can" model? The tubular design was arguably the least data center-friendly shape, but the MacStadium team put their heads together and developed one of many patents that flipped them on their side to allow the fan to vent into the data center aisles. Genius! 
Ten years later, Apple has made life a little easier by releasing small, rectangular models like the increasingly powerful Mac mini and the slightly larger Mac Studio. But these days, our team is not only concerned with the typical cooling and capacity, but they have also been challenged with building in space for providing keyboard, video, and mouse (KVM) devices, affectionately referred to as "helmets" because of their placement atop a racked machine.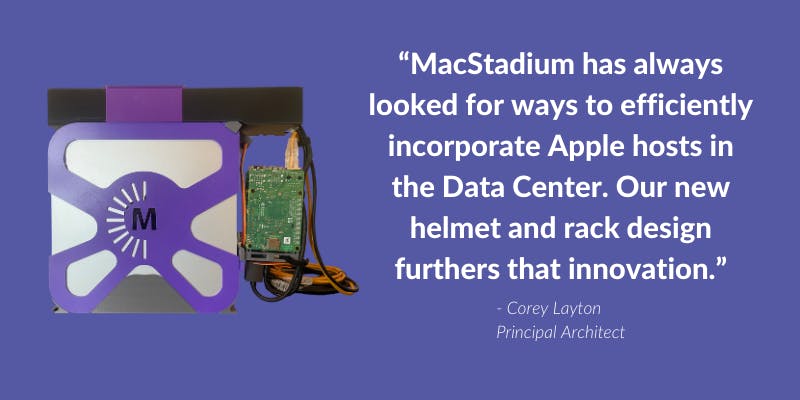 The new helmet houses a temperature probe, LED light, OLED display, and a servo, allowing for granular remote control of Apple devices' power button. These KVM devices can remotely control the Apple devices they are connected to, unlocking new self-service capabilities for MacStadium users, including the ability to dynamically define the purpose of the Apple device, access to network storage, and the long-awaited ability to run FileVault.  
"We took ideas from remote control cars and airplanes to engage use of the power button in an automated fashion," said Robert Perkins, MacStadium Infrastructure Architect. "And the ultimate goal is to allow customers to self-service their Apple compute, including reinstalling macOS, using recoveryOS to turn off/on SIP, or accessing the computer if Screen Sharing is not working."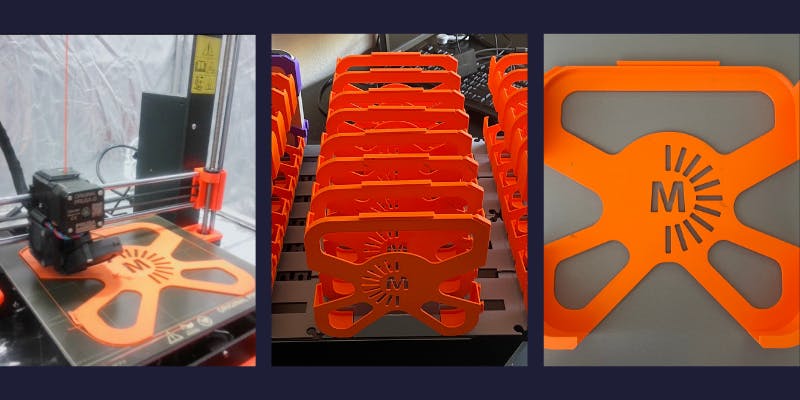 The resulting rack is comprised of proprietary, injection-molded shelves that hold 144 Mac minis with a KVM device on each. This new shelf design offers six times the server density of older Mac Pro racks and 50% more server density than our existing Mac mini racks. If you ask Paul Benati, MacStadium's Senior VP and COO, "Our new rack shelving system's operational simplicity is game-changing and a testament to our Apple expertise."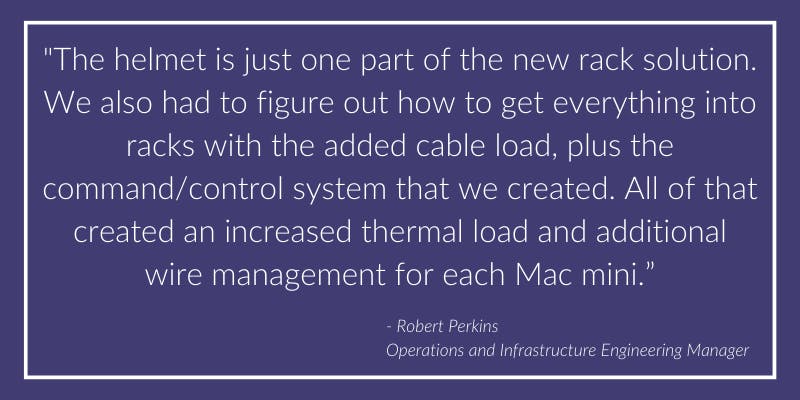 Paul Benati, Corey Layton, and Robert Perkins are named contributors to the KVM helmet and updated rack shelving design patents.