New Names, Same Powerful Machines: Choosing Mac Cloud Hardware Just Got Easier
MacStadium's Bare Metal lineup has a new naming system, making it easier than ever before to choose the perfect Mac. We discuss the details of the new naming structure, as well as an in-depth look at our latest and greatest machines. Continue reading to see how MacStadiumcan help you make a confident decision when selecting a Mac.
MacStadium's Updated Naming Structure 
We've heard your feedback – MacStadium has a new and improved naming system for our Bare Metal machines! 
This new naming structure will help Mac developers better understand MacStadium's product line and how to choose the right Mac. 
Each new name includes the model, the Apple Silicon generation, and the size of the machine right in the title, making it easier to understand and select the model that's right for you. 
Here's the breakdown of the new system: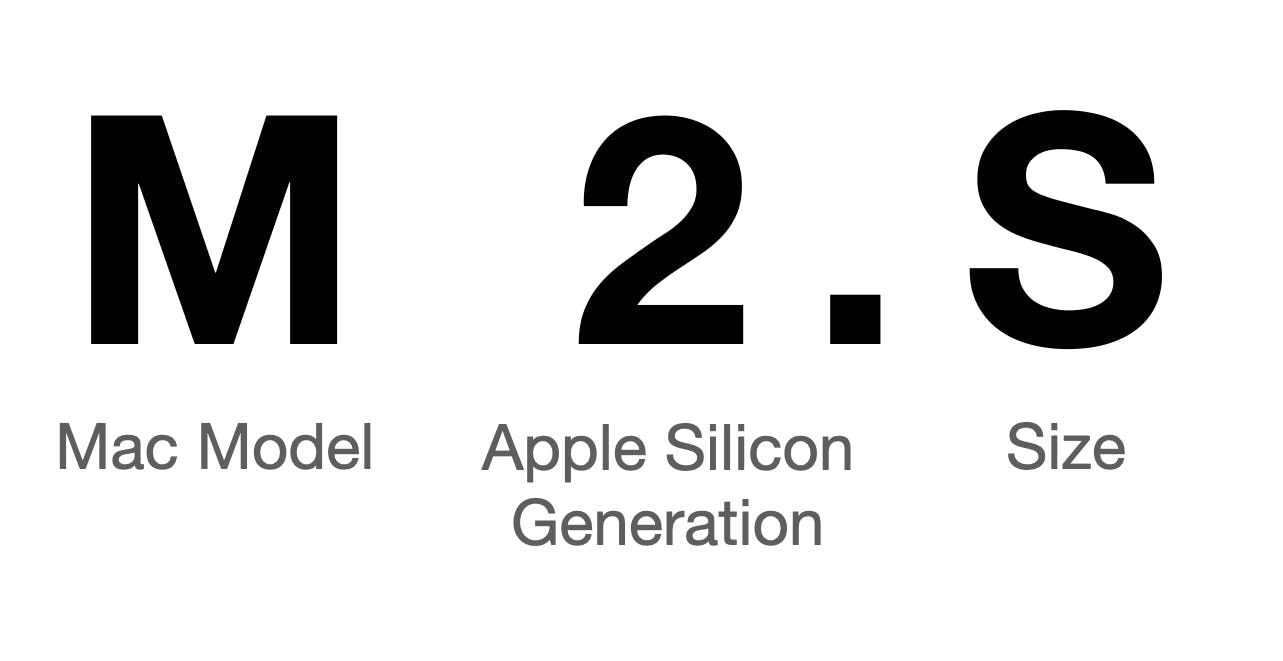 The first letter in the name specifies the model. M is for mini, and S for Studio. 
The second digit in the name shows the generation of Apple Silicon. For example, 2 indicates M2, and 1 indicates M1.  
The third letter indicates the relative size of the machine. Each size represents a meaningful difference in CPU, RAM, and Storage, relative to other sizes. 
Grouping the machines into size categories makes it easy to know where to start when selecting a Mac with MacStadium. Much like T-shirt sizes, you probably know if you generally need a small or a large, and so on. 
You may be wondering – Why change the naming structure? 
At MacStadium, we're all about simplifying Mac for business. As Apple continues to move to more frequent hardware releases, we want to create a standardized way to identify machines. Ultimately, simplifying the process of choosing a Mac machine.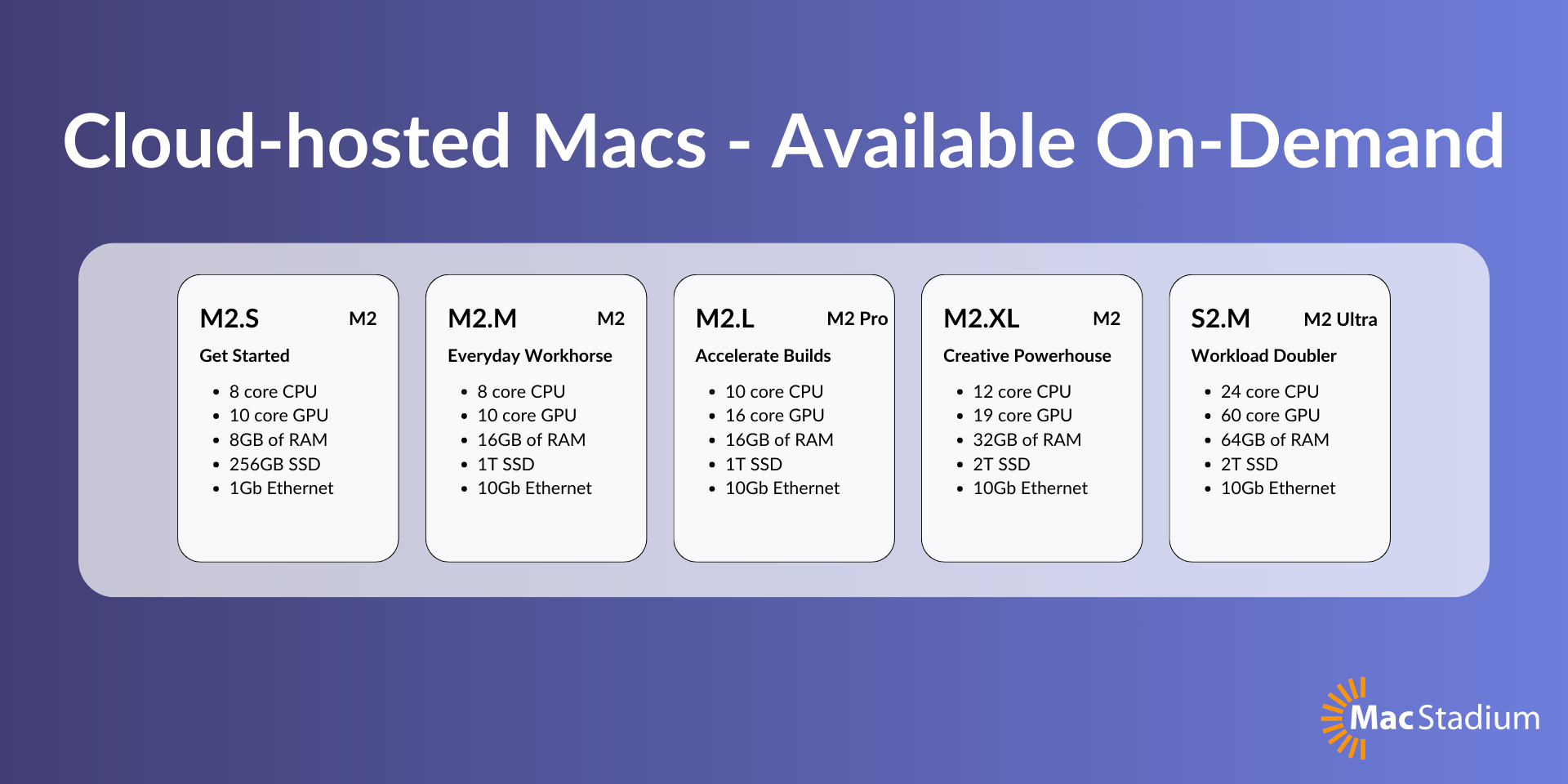 How to choose the best Mac for your use case 
Need a reliable machine to help you scale? Want a Mac for your side project?  
Our team of Mac experts hand-selected each machine to match a specific use case. In short, there's a Mac that fits every need. Here's a quick guide to our latest offerings:  
1. Getting started 
M2.S: Best for entry-level.  
This Mac mini with M2 Small (S) machine is great for anyone looking for a solid starter machine. Here are the specs: 
M2 8 Core CPU, 10 Core GPU 
8GB RAM 
256GB SSD 
1Gb Ethernet 
M2.M: Best for everyday compute. 
With double the RAM, additional storage, and 10Gb Ethernet connectivity, the Mac mini with M2 Medium (M) is an ideal choice for mainstream performance Mac compute, and as a basic node in an Orka cluster. Here are the specs: 
M2 8 Core CPU, 10 Core GPU 
16GB RAM 
1TB SSD 
10Gb Ethernet 
2. Accelerating your builds 
M2.L: Best for improving Xcode build times and CI/CD. 
The Mac mini with M2 Pro Large (L) brings an approximate 20% performance increase over the Medium (M) in real-world tasks, with 10 cores of compute. Here are the specs: 
M2 Pro 10 Core CPU, 16 Core GPU 
16GB RAM 
1TB SSD 
10Gb Ethernet 
M2.XL: Best for heavy creative builds. 
The Mac mini with M2 Pro Extra Large (XL) doubles the RAM and storage of the Large (L) machine, and adds another 2 compute cores, for around a 40% performance increase over the Medium (M) model in real-world tasks.  In our testing, this model scores equivalent to a Mac Studio with M2 Max in compute tasks, despite its mini form factor. Here are the specs: 
M2 Pro 12 Core CPU, 19 Core GPU 
32GB RAM 
2TB SSD 
10Gb Ethernet 
3. Maximum growth 
S2.M: Best for rendering, AI, and creative apps. 
Mac Studio with M2 Ultra Medium (M) is our most performant model, with the latest and highest-end Apple Silicon available. As a Medium Studio model, it has twice the CPU power and RAM of M2.XL, with three times the GPU power. Here are the specs: 
M2 Ultra 24 Core CPU, 60 Core GPU 
64GB RAM 
2TB SSD 
10Gb Ethernet 
When to prioritize CPU vs. GPU 
The CPU (Central Processing Unit) is the machine's main processor and handles running the operating system and apps. Additional CPU cores enable more performance when multitasking, as well as faster execution times for applications optimized for multi-threaded execution. We have found in our testing that for Xcode builds, the number of cores has a proportionate impact on compilation times. Since Xcode is well-optimized for multi-threaded execution, a Mac with more CPU cores will be able to execute build tasks more quickly. For CI/CD applications, we recommend prioritizing CPU performance when selecting a machine. 
The GPU (Graphics Processing Unit) is a specialized processor that was originally designed to handle graphics-related tasks like rendering images, videos, and animations. Because of its processing power, GPU is also now used for large-scale data analysis and machine learning. GPU performance should be prioritized when selecting machines for creative use, as well as game development and AI/ML applications, including locally hosted LLMs. 
Comparing Mac Models with MacStadium Benchmarks 
The two main struggles when selecting a Mac are: 
Figuring out how many machines you need 
Deciding what specs to prioritize 
Fortunately, MacStadium has created a benchmarking process to help with both issues. 
See more results + details about our benchmarking process here!  
You've Selected Your Mac – Now What? 
At MacStadium, we understand you want the most bang for your buck. As Apple continues to release newer, faster models, we can help you understand the performance gains on machines and how they measure up to pricing differences. 
Customers who partner with MacStadium can create custom Mac cloud environments by mixing and matching hardware to run specific jobs within their Apple workflows – all without overspending across the board. 
Intrigued? Get access to your cloud hardware within minutes –  Login or sign up on our portal today!