MacStadium Network Monitoring
Monitoring network performance of hosted servers is essential to managing the capabilities of the software running on your Mac servers at MacStadium.
Monitoring network performance of hosted servers is essential to managing the capabilities of the software running on your Mac servers at MacStadium. We provide unlimited bandwidth for every solution at MacStadium so throttling is not an issue, but it's important for users to also measure the speed and latency of their servers. 
Whether it's our dedicated Mac minis or Mac Pros, colocated servers that you own, or our hosted private cloud solution, MacStadium has network monitoring tools in place for you to take advantage of.
Dedicated Servers and Colocation Network Monitoring
A standard feature of MacStadium dedicated servers is the ability to review network statistics for each individual hosted Mac server. Every account at MacStadium includes a set of network utilization graphs attached to each subscription.
In more detail, each server is tied to a subscription and a slot in one of our custom-designed server racks. So each server sits in a rack slot and the power plus network for that rack slot is connected to a subscription in your customer dashboard. 
Colocated Mac mini and Mac Pro servers take advantage of the same network monitoring features. When you send in a Mac, we deploy your hardware in the same racks as our servers and you have access to the same network.
View Network Utilization Graphs
Once you have an active server in a MacStadium data center, you can view the network utilization graphs via the same customer dashboard where you manage your account, billing, and support tickets.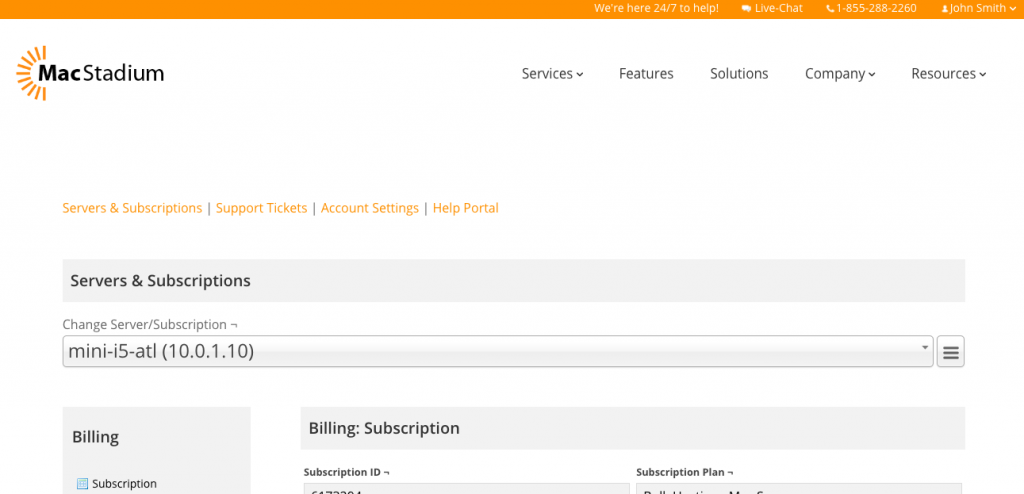 If you have more than one server subscription, select the server you would like to view network utilization of by selecting it from the Change Server/Subscription dropdown at the top of the account dashboard. In the left-hand navigation bar, select Utilization Graphs under the Control category to get started. 
The type of switch and port speed are displayed above the graphs. Select from hourly, daily, weekly, or monthly views.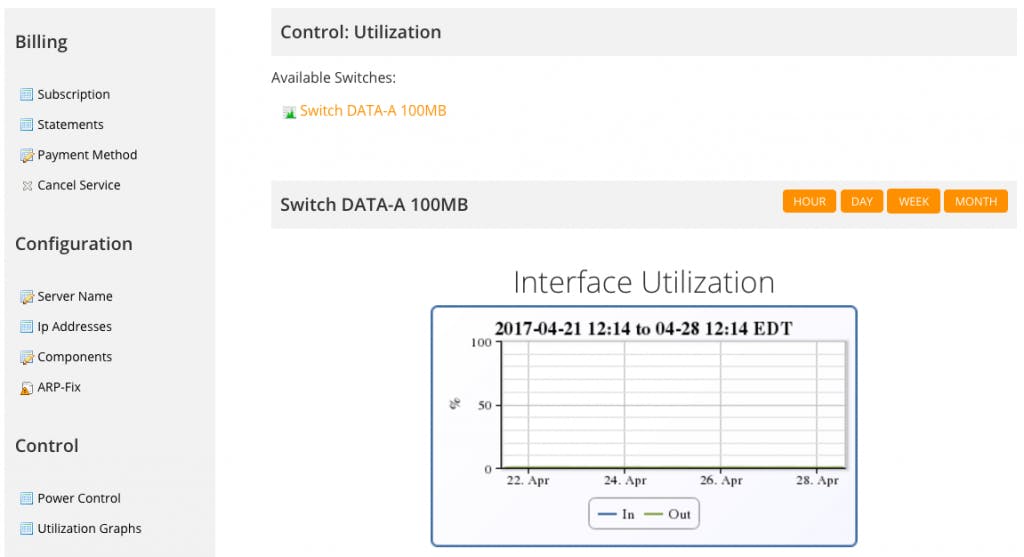 Interface Utilization
A graph showing inbound and outbound traffic (MRTG/RRD-style) at the dedicated network switch port your Mac server is connected to as a percentage of the port speed (100Mb/s or 1000 Mb/s).
Throughput
The maximum amount of data successfully traveling both inbound and outbound as measured in Mbits/sec.
Packets
Measures unicast packets and broadcast/multicast packets both inbound and outbound in packets/sec.
Drops/Errors
Measures packet discards and errors both inbound and outbound in packets/sec.
Status Changes
Tracks route flapping which is a measure of network availability/reliability. A high number of continuous flaps should be considered irregular. The following resources provide more details on route flapping:
Troubleshooting Graphs
You may occasionally experience issues with the network connection and additionally the network utilization graphs. Oftentimes, a simple page refresh or a change of timeline view (from days to weeks and back) can fix the issue. 
If you're noticing a lack of data or suspect data is incorrect we recommend you open a support ticket. Our engineering and operations teams will review the issue and consult with you to fix any network issues or software bugs. 
When you are unsure whether the issue is with your hosted Mac or further up the network stack, we recommend customers first check (and subscribe to) the MacStadium status page. The status page displays information about the uptime of each of our data centers, the state of our core networking infrastructure, and connections to upstream carriers.
Hosted Mac Private Cloud Network Monitoring
Compared to the simple setup of dedicated hosting where we measure a single server and the connected ethernet port, hosted private clouds are a much different beast. Networking travels through multiple layers of physical routers, switches, and firewalls plus software layers (including through VMware) to reach both individual servers and the virtual machines running within the VMware environment. 
To manage all aspects of the network monitoring of our hosted Mac private cloud environments along with VMware and Pure Storage all-flash SAN, we utilize LogicMonitor.

LogicMonitor allows our engineering team as well as customers themselves to have incredibly deep insight into their systems. That means monitoring all aspects of both hardware and software aspect to maintain the optimum performance beyond just internet networking. 
When a DNS route changes affecting latency of virtual machines running on all-flash SAN, alerts in the customer environment will let all parties know immediately so a new, optimized configuration can be deployed in place. As teams build and deploy at scale in MacStadium cloud environments, the data provided by LogicMonitor is essential to maintaining a growth-focused environment.
Do-It-Yourself Network Monitoring
We attempt to provide the most frequently used and effective network graphics and tools for our customers. You may have an edge case where our provided metrics and systems are insufficient. In that case, there are a few software tools available that you can use on your own. 
Open source tools and built-in system tools are the first category to consider. macOS and other Unix-based systems have built-in command-line interface-based networking tools like ping, traceroute, netstat, and ifconfig can provide access to basic network and routing information about your computer and its connection to other systems and the internet itself. 
Paid SaaS solutions are another avenue to consider. Tools like Pingdom and PagerDuty allow you to monitor network connectivity to servers and software services on those servers. There is a wide range of feature support and general scope among network monitoring tools making it important to compare and choose the best tools based on your use case. 
Editorial note: This post was originally published in July 2012 and has been updated to reflect changes at MacStadium and new recommended best practices.