How To Upgrade to macOS Big Sur in Your VMware Cloud
If you are virtualizing macOS in VMware, it may be time to upgrade your environment. Xcode 12.5 is out in beta, and we have a rundown of the compatible VMware versions, and the steps to take to upgrade to them.
First announced in June of 2020 and generally released in November, Big Sur is the latest version of macOS. At the time of release, the latest version of Xcode 12 was still compatible with macOS Catalina, Big Sur's predecessor. However, Xcode 12.5, released just this month, and beyond will require that you run macOS 11 (Big Sur). For a breakdown of the new features offered in Xcode 12.5, check out Apple's release notes.
In light of this, teams that run a Mac-specific VMware Cloud hosted by MacStadium, and who are looking to make use of the latest Xcode features, may find themselves in need of some peripheral upgrades to make this change possible depending on their current version of ESXi.
Finding Your Current ESXi Version
The minimum required version of ESXi that will support Big Sur is version 6.7U3. Below, you will find the steps you can take to identify the ESXi version you are currently running.
If you are using a standalone ESXi, simply navigate to the main page in the web UI, where you can find the currently installed version, as shown below.

If you are running vCenter, you can find the installed ESXi version by navigating to your host in the sidebar navigation and then selecting the Summary section, as shown below.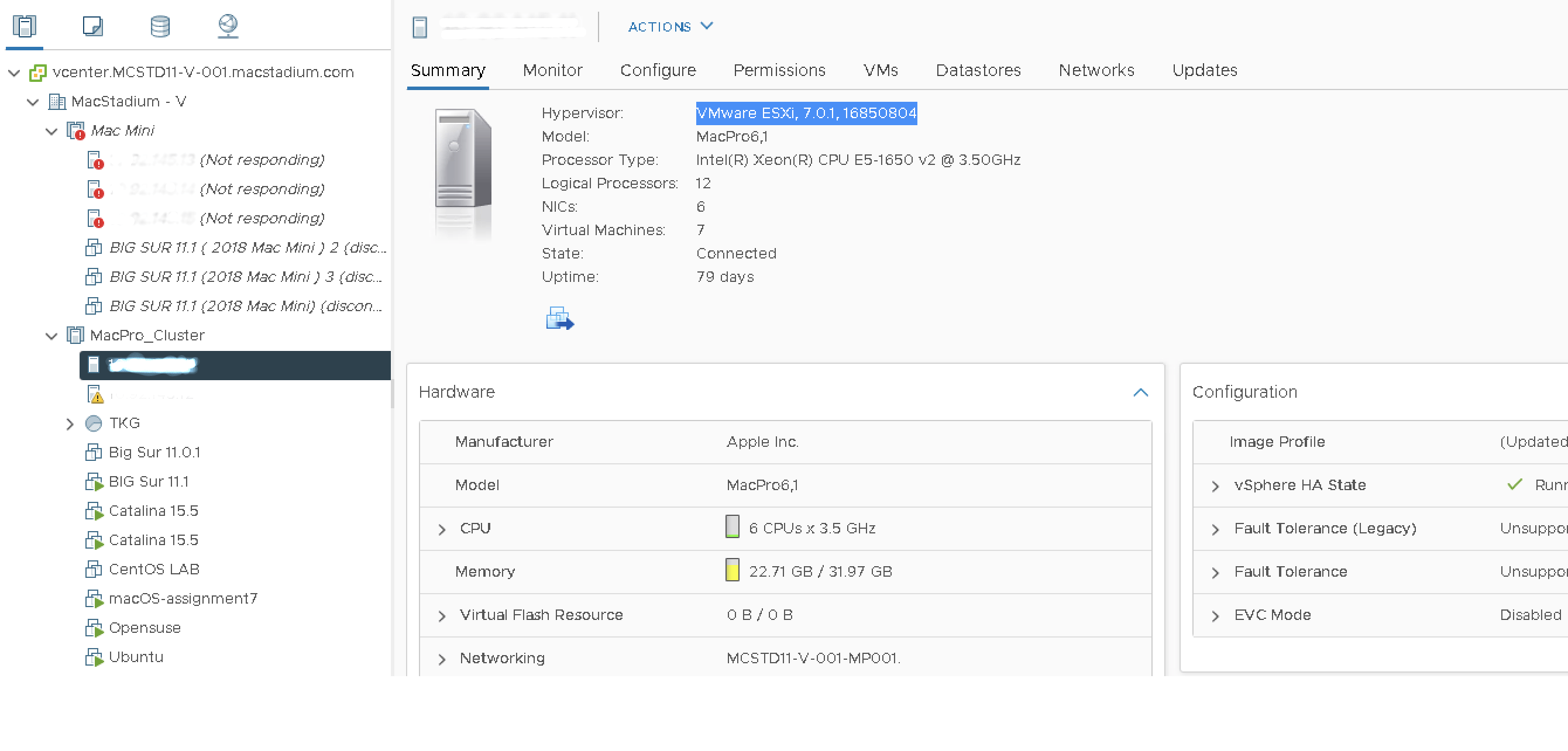 Identifying Your Target ESXi Version
If you would like to upgrade to 7.0 in your MacStadium VMware Cloud, which offers a variety of new and improved features that may appeal to your organization, it will require a maintenance window in which we will upgrade the vCenter, as there will be backend work that MacStadium engineers will need to complete. Additionally, the FC for your hosts' storage must be upgraded in order to upgrade to ESXi 7.x. For additional information please review the vSphere 7.0 Upgrade Process.
Conversely, upgrading to 6.7U3 from any other version of 6.7 is considered a minor patch and does not require additional support from MacStadium to upgrade. You should still plan on upgrading in a maintenance window as your VCSA will be offline during the upgrade; however, you can perform these steps entirely yourself and do not need MacStadium engineering to be involved. Follow this guide to see that process.
Upgrading Your ESXi Version
In order to upgrade to ESXi version 6.7U3 or 7.x, you'll need to execute the following steps.
1. Back up vCenter – This process is described in detail in MacStadium's Docs.
2. Upgrade vCenter – You can find detailed instructions for this process in the VMware Docs.
3. Upgrade ESXi host
4. Upgrade VM hardware and VMtools
5. Deploy new macOS VM or upgrade existing guest VMs to Big Sur
TL;DR
Xcode 12.5, which was released this month, requires macOS Big Sur. In order to take advantage of the latest Xcode features and updates in your MacStadium-hosted VMware cloud, your team will likely need to upgrade to a minimum of ESXi 6.7U3, or simply move directly to ESXi 7.0. Have more questions? Submit a help ticket in your MacStadium portal.