Cloud Connect
Cloud Connect
Integrate your Mac cloud with other existing cloud environments over a private, secured connection using MacStadium Cloud Connect. Your MacStadium resources can be connected to other cloud providers within hours, avoiding complicated firewall setups and VPN configurations.
Key features.
Reduced cost.
With Cloud Connect, egress Internet transfer rates are reduced by an average of 75%, potentially paying for the cost of the service.
Increased security.
Secure the transfer of data and valuable intellectual property across a private network without the risk of public Internet exposure and the burdens of firewall encryption. Experience the benefits of a dedicated private cloud environment with the proven security of a private network ecosystem.
Diverse connectivity.
Get secure, high-performance connections to AWS, Microsoft Azure, Google Cloud, IBM Cloud, Oracle, and more.
Better performance and stability.
Cloud Connect delivers lower latency and guaranteed bandwidth availability for mission-critical workloads without the risk of congestion or contention with other customers.
Improved scalability.
Add capacity as your traffic demands grow, quickly and without service downtime.
Reduced time to deploy.
Cloud Connect allows you to greatly shorten the amount of time it takes to onboard, migrate, and transition MacStadium services into production use.
Use cases.
Connect your MacStadium environment to your existing cloud provider.

Protect MacStadium resources with existing cloud security policies and procedures.

Avoid firewall setup and VPN configuration requirements.
Cloud providers.
Amazon Web Services® Direct Connect
Microsoft® ExpressRouteTM
Google® Cloud Partner Interconnect
Google® Cloud Carrier Peering
IBM® Resiliency Services
IBM® Cloud Managed Services
IBM® Cloud Direct Link
Oracle® Cloud Infrastructure FastConnect
(Additional cloud providers available)
Availability.
Cloud Connect is available in MacStadium's Atlanta, Dublin, Las Vegas, and Silicon Valley data centers.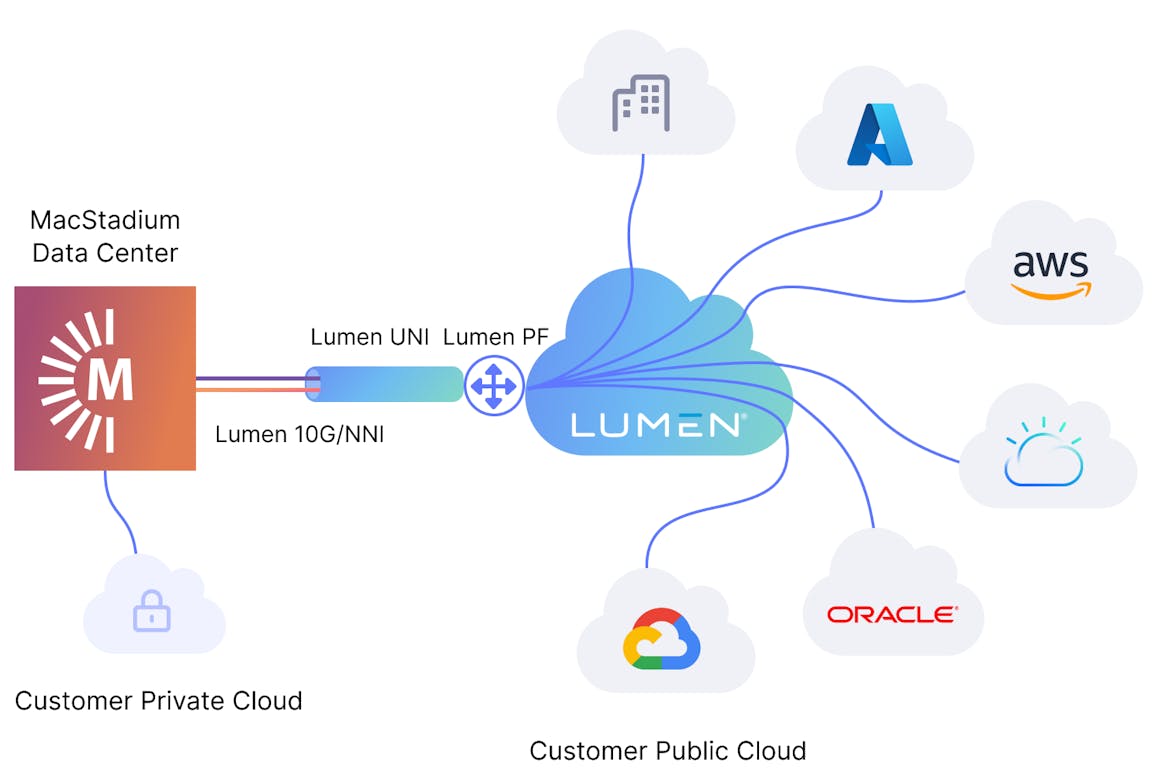 How it works.
MacStadium has partnered with Lumen to streamline secured connectivity between your cloud provider(s) and our data centers. With connectivity to over 2,000 third-party cloud locations, Cloud Connect extends and connects your existing cloud to your MacStadium Mac cloud. MacStadium has deployed redundant Lumen network endpoints in each of its data centers allowing rapid provisioning of secure private circuits.

MacStadium leverages Lumen Cloud Connect to deliver reliable dedicated Ethernet Virtual Circuits (EVC) between your cloud provider and our facilities. Choose a private ethernet circuit size based on your data transfer needs (10Mbps up to multiple 10Gbps) between MacStadium and your cloud provider. After you have exchanged cloud IP and peering information with MacStadium, we will provision the EVC between your external cloud provider's location and MacStadium's data center, configure routing between the networks, and provide you with hands-off access. Set up the appropriate peering configuration in your cloud portal, and you will have direct access from your cloud provider into your MacStadium environment.
Frequently Asked Questions.