Storage
Extend your cloud with reliable shared storage.
MacStadium provides multiple storage options from high-performance SAN suitable for running VMs and other high-bandwidth use cases to archival storage for large data volumes that simply need to persist.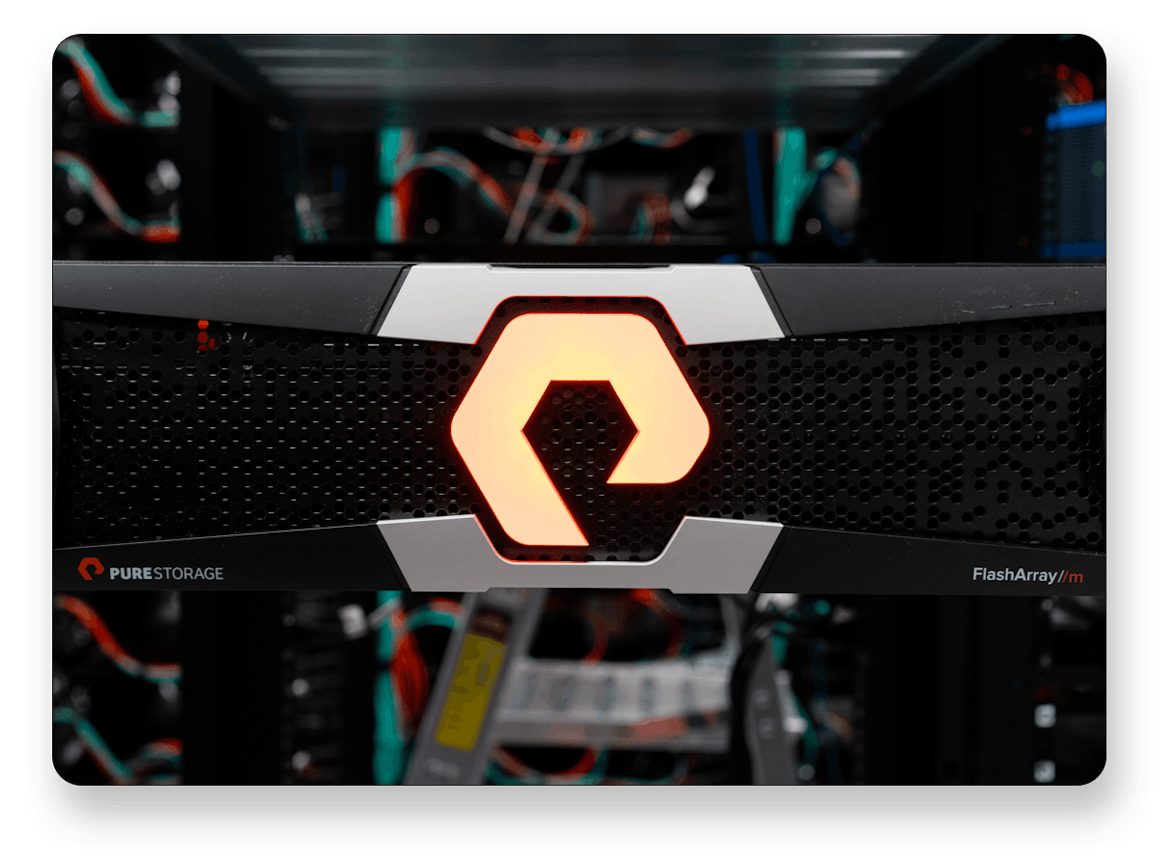 Performance storage.
We offer the fastest, highest-quality storage solutions in the market, built on high-performance NVMe storage. All data is encrypted at rest, redundancy is built-in, and is self-healing.
Virtual cloud.
Performance SAN is needed to run your VMs with peak performance and comes standard with our virtual cloud offerings (Orka, VMware, and Anka) and can be added to a bare metal cloud environment.
NFS.
NFS volumes are optimized for sustained bandwidth and are a great choice for shared files such as VM templates, shared caches, or data stores. These volumes peak at 1GBps.
iSCSI.
iSCSI volumes are optimized for IOPS-heavy and super-low-latency use cases. These are a great choice for VM storage volumes, particularly in VMware-based Mac clouds. These volumes can peak at over 5GBps.
Standard SAN.
This storage solution is ideal for storing files and artifacts that don't require top-tier performance but are still accessed frequently. Use standard storage to run VMs that are not IOPS-heavy such as a simple web server. Standard storage can be either NFS or iSCSI and can scale out to hundreds of terabytes. Again, all data is encrypted at rest and highly redundant.
Network-attached.
NAS storage is ideal for backup and archive use cases where cost-management trumps the need for access speed. For these workloads, we provision NAS arrays with up to 25TB of capacity. These NAS arrays don't have hardware encryption by default; however, customers can enable this if they choose. The arrays use RAID X to ensure redundancy from hardware failure.
Direct-attached.
Direct-attached storage is the perfect solution for those who need additional storage on their individual machines, and do not need to share resources across servers. These cost-effective options come in 1TB, 2TB, and 4TB sizes.
Get started
Add storage to your Mac cloud.
Add SAN, NFS, or direct-attached storage to your Macs from your MacStadium cloud account. Not sure what storage is right for your use case? Consult a sales engineer.
Learn more.
Get technical details and how-to guides in the MacStadium docs.
Read the docs
Need help?
Have a question about your existing MacStadium storage?
Submit a ticket