Transitioning to iOS Continuous Integration from On-Premises to Cloud
Effective CI for iOS is essential for driving an application release schedule and maintaining a user base, but evolving teams may find that they've outgrown existing CI processes. Download our latest white paper to explore the benefits of transitioning iOS CI to the cloud with MacStadium.
For developers that are currently working on building modern and innovative iOS apps, effective continuous integration (CI) is a key factor for success. The ability to quickly and cleanly iterate on application releases is crucial for developers that are tasked with building and maintaining the app's user base.
And it's not just the end-users of an app that benefit from effective continuous integration. Successful CI processes help to build and maintain developer satisfaction and drive retention in today's highly competitive marketplace.
Recognizing the Value of Continuous Integration
What is the current state of your CI? Have you outgrown your current CI system? If so, what can you do about it?
At MacStadium, we've learned from our customers and from talking with iOS developers, that teams generally recognize the inherent value of CI quite early - so early that teams are often still emerging players in the field. Therefore, a small, localized development team working together in one building results in the team finding success by creating small-scale, localized CI processes running on bare metal.
But, as teams continue to grow and evolve, the established CI processes that worked for a smaller development team are not as viable or as cost-effective anymore. In fact, an outgrown CI system can lead to increased build queues, maintenance windows, and troubleshooting time that can be detrimental to a growing team. To stay competitive and to continue to build and release on schedule, CI processes need to evolve with the team based on its needs.
Transitioning iOS CI to the Cloud
If your development team is growing and working to evolve your CI processes, then check out our latest white paper on this topic. You'll learn more about the use case for continuous integration as a service (ClaaS) and how MacStadium's industry-leading security posture and macOS virtualization solutions can help evolving teams. With the right solution, development teams can iterate on CI pipelines and free up engineers to focus on delivering value and not on maintaining an outgrown CI system.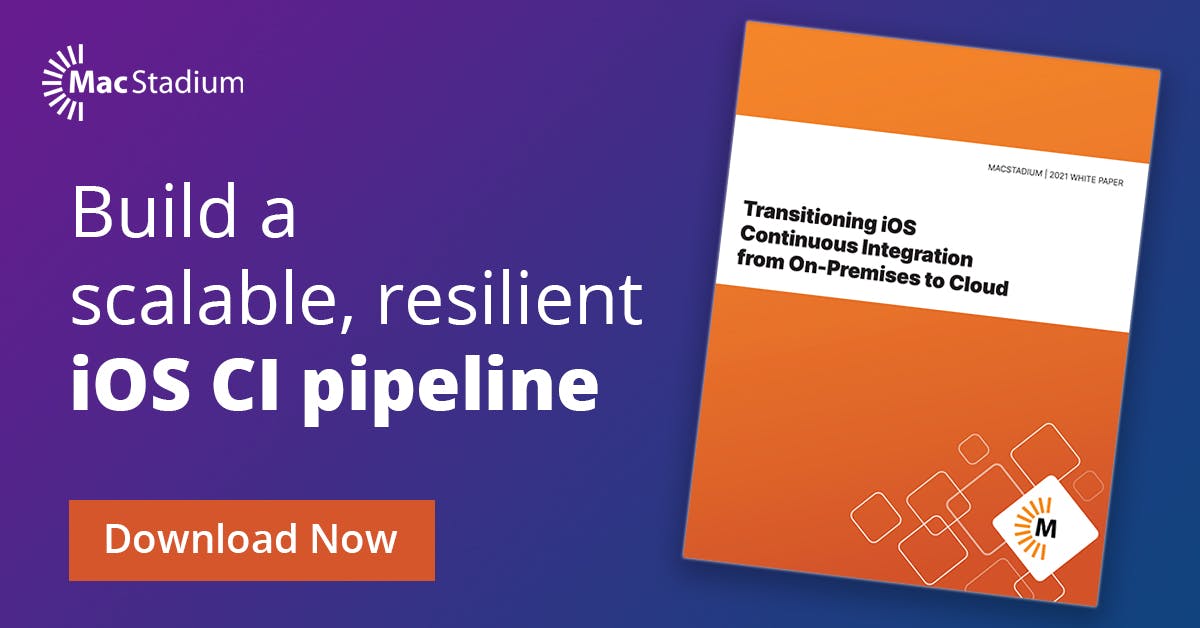 Ready to explore growing your CI pipeline? Talk to a MacStadium sales engineer today! As the Mac experts, we're here to help you customize the best (and most secure) solution for your use case.