macOS 12 Monterey Beta Available on Orka v1.5.4
The macOS Monterey beta just dropped for developers last week, and you can already test with it on Orka. Learn how in this post.
Monterey, the latest beta of macOS was announced last week at WWDC. It is currently available for Apple developers, and the public beta is slated to be generally available in July of this year. This OS is packed with new features, and development teams that are targeting macOS can now test for compatibility between macOS Monterey and current product iterations with Orka VMs running this newest release.  
Monterey features significant updates to FaceTime, Messages, Maps, and more. Check out the macOS Monterey Preview for a full run-down of updates.
Orka is an ideal testing platform
Because Orka allows users to spin up VMs in any configuration with just the orka create command, it makes for an excellent testing platform for this newly minted OS. Orka users can now install the Monterey beta once in a running Orka VM, commit the VM image, and then spin up VMs with the beta installed at will for testing.
Get macOS Monterey Beta Working in Orka v1.5.4
Installing the macOS Monterey Beta in Orka is simple.
VNC into a running Big Sur VM in Orka
You'll first need to spin up a Big Sur VM in Orka. Then you'll need to VNC into the running Big Sur instance. Once you have access to your Big Sur desktop environment, you'll need to enable auto-login for the current user, so that Apple's macOS Monterey beta installer will be able to fully execute the install.
Enable auto-login for the current user
In order to enable auto-login on the Big Sur VM, navigate to System Preferences > Users & Groups > Login Options and select your currently logged-in user for automatic login. You'll have to enter your user password and confirm the desired change.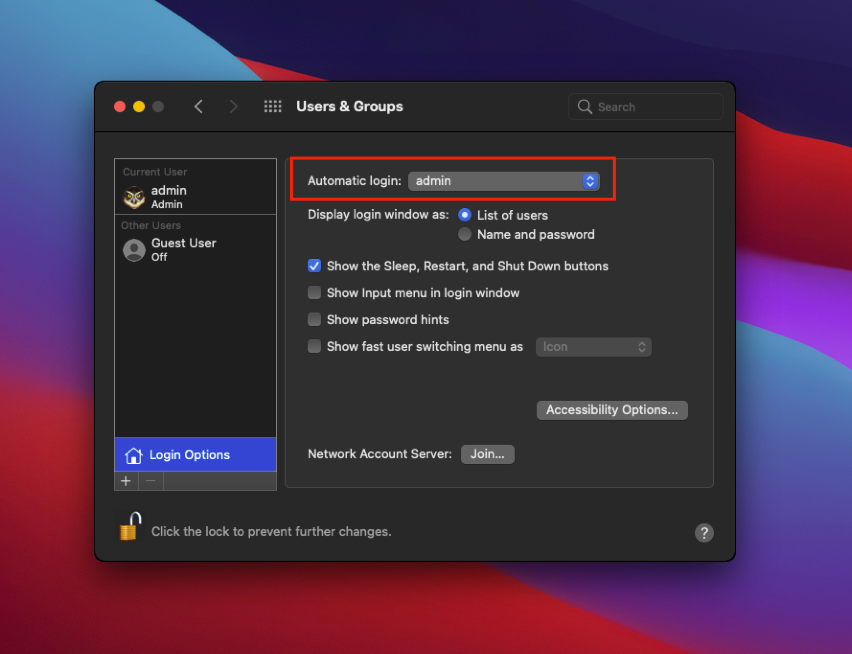 Download and Install the macOS Monterey Beta
Finally, just download the macOS Monterey Beta from https://developer.apple.com/download/, which will require an active Apple Developer account. From there, you can follow the outlined steps for installation, or to keep things simple, you can follow this explicit installation guide from 9to5Mac.  
Check out all of the great things in our latest release in our Orka 1.5.4 release notes. Do you have any great ideas for future Orka features? If so, let us know through the Orka Ideas Portal. And if you are not a current Orka user, give Orka a try with a free two-hour Orka demo environment.