MacStadium CEO & CFO Named as Entrepreneur of the Year Finalists
MacStadium CEO Greg McGraw and CFO Michael Landreth are finalists in the Entrepreneur Of The Year® 2020 Southeast Awards program.
Ernst & Young LLP (EY US) has announced that both Greg McGraw, MacStadium's Chief Executive Officer, and Michael Landreth, MacStadium's Chief Financial Officer were named as Entrepreneur Of The Year® 2020 Southeast Award finalists. Now in its 34th year, the Entrepreneur Of The Year program honors entrepreneurial business leaders whose ambitions deliver innovation, growth, and prosperity as they build and sustain successful businesses that transform our world. McGraw and Landreth were selected as two of 30 finalists from a competitive pool of nominations by a panel of independent judges.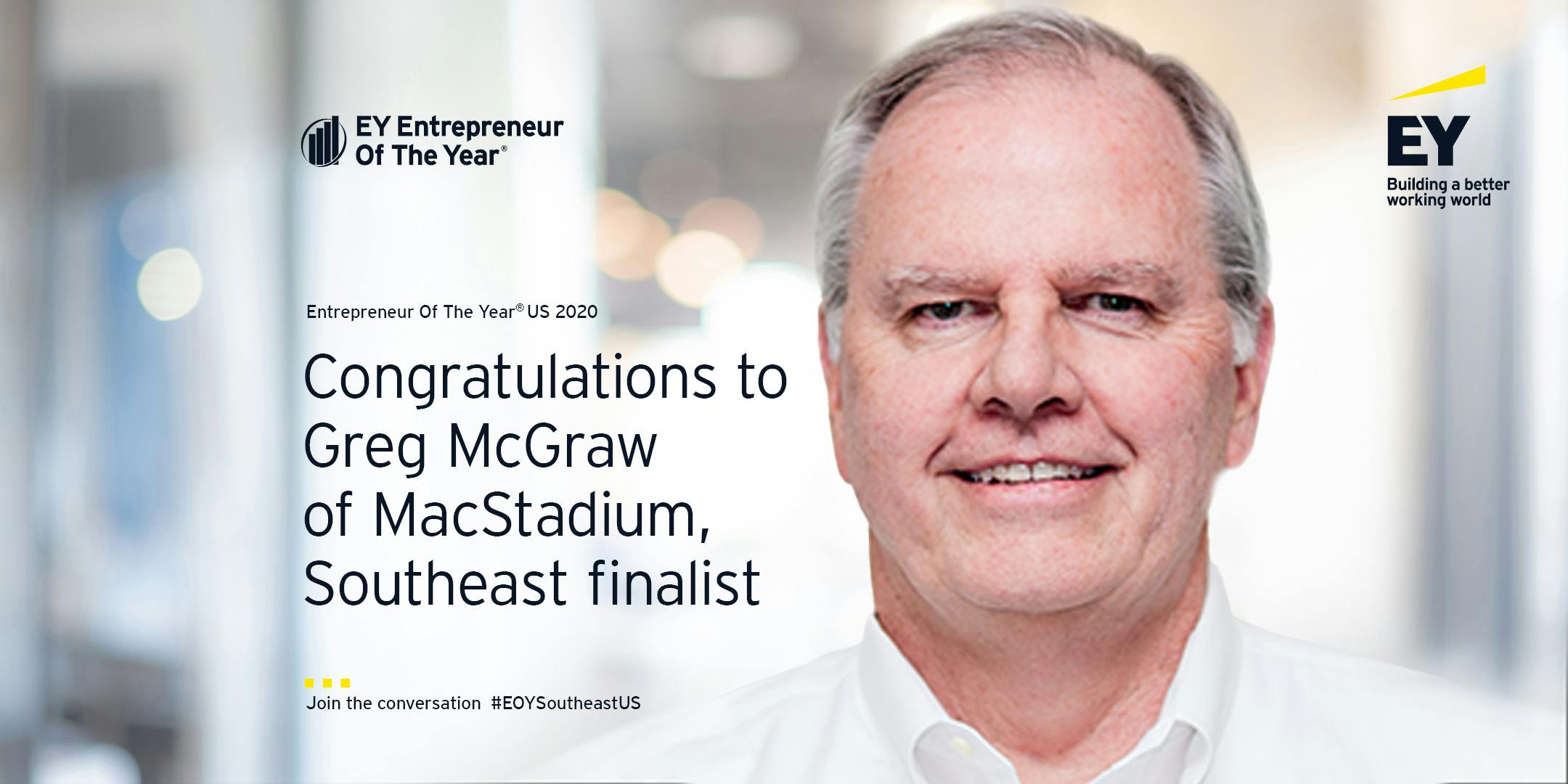 "I'm honored to be recognized among the 30 visionary finalists in the Southeast, including MacStadium's very own Michael Landreth," said McGraw. "I'd like to thank EY US for both our nominations; we're excited to be part of a group that includes so many transformative business leaders. But none of this could be possible without the employees at MacStadium, who keep innovating and are helping us change the entire industry."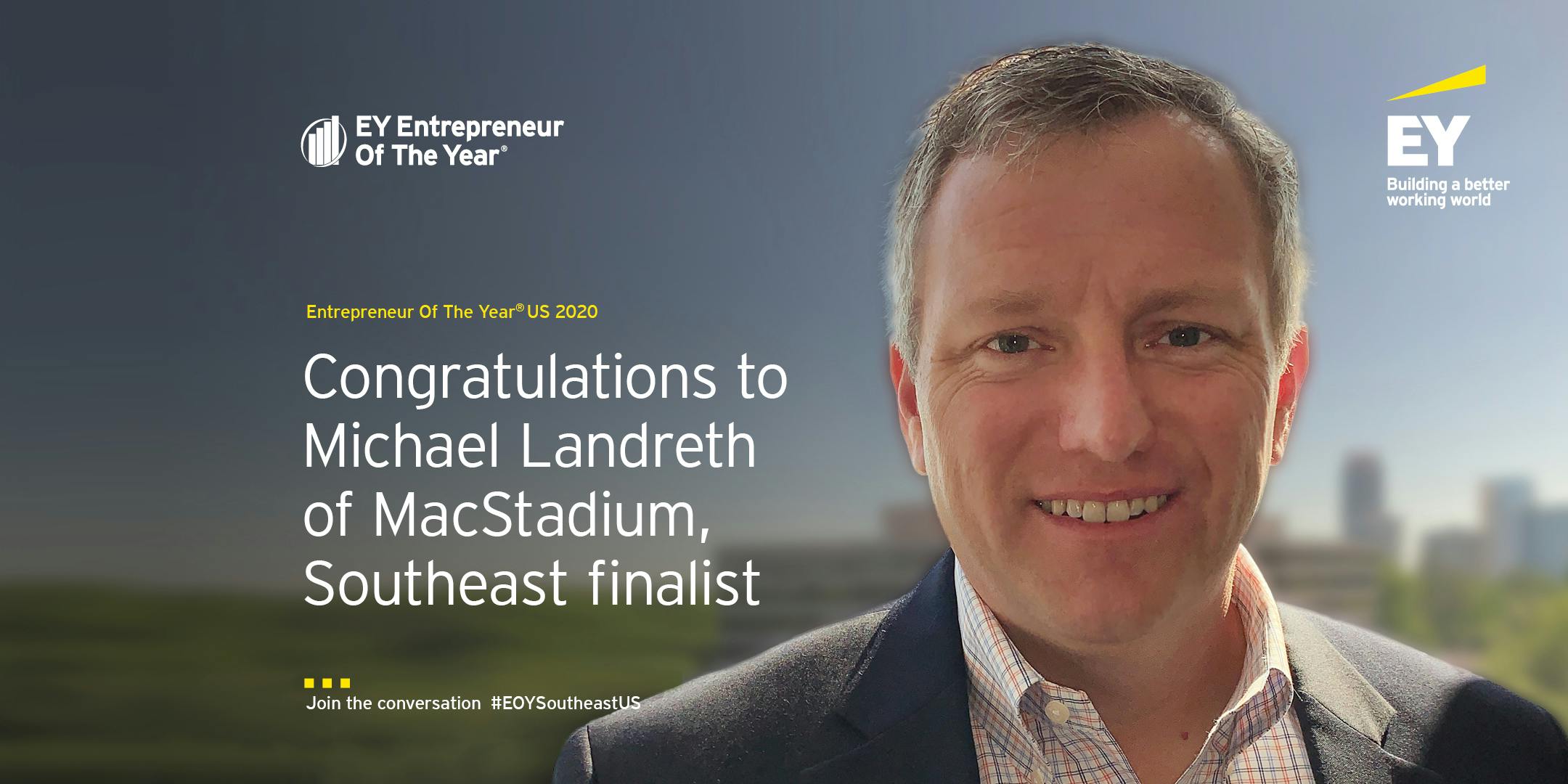 Award winners will be announced through a special virtual event in early October and will join a lifelong community of esteemed Entrepreneur Of The Year alumni from around the world. This year, unstoppable entrepreneurs who have provided extraordinary support for their communities, employees, and others during the COVID-19 crisis will also be recognized for their courage, resilience, and ingenuity.
Entrepreneur Of The Year is one of the preeminent competitive award programs for entrepreneurs and leaders of high-growth companies. The nominees are evaluated based on six criteria, including overcoming adversity; financial performance; societal impact and commitment to building a values-based company; innovation; and talent management. Since its launch, the program has expanded to recognize business leaders in more than 145 cities in over 60 countries around the world.
About Entrepreneur Of The Year®
Entrepreneur Of The Year® is the world's most prestigious business awards program for unstoppable entrepreneurs. These visionary leaders deliver innovation, growth and prosperity that transform our world. The program engages entrepreneurs with insights and experiences that foster growth. It connects them with their peers to strengthen entrepreneurship around the world. Entrepreneur Of The Year is the first and only truly global awards program of its kind. It celebrates entrepreneurs through regional and national awards programs in more than 145 cities in over 60 countries. Winners go on to compete for the EY World Entrepreneur Of The Year™ title. ey.com/us/eoy
About MacStadium
MacStadium provides private cloud solutions built on Apple Mac infrastructure to organizations around the world. Powered by MacStadium, Orka (Orchestration with Kubernetes on Apple) is the only virtualization layer available for Mac build infrastructure based on Docker and Kubernetes technology. MacStadium, a Summit Partners portfolio company, is headquartered in Atlanta, Georgia, with growing operations in Las Vegas, Silicon Valley, Dublin, Ireland, and Frankfurt, Germany. Learn more at https://www.macstadium.com or on Twitter @macstadium.
Apple and Mac are registered trademarks of Apple Inc., registered in the U.S. and other countries. Other product names, logos, and brands are property of their respective owners.