MacStadium Named #6 on ACG's Fast 40
MacStadium was included on ACG Atlanta's "Georgia Fast 40," an award that recognizes the fastest growing middle-market companies in Georgia.
At their annual dinner and gala, ACG Atlanta, the Atlanta Chapter of The Association for Corporate Growth® (ACG), honored the top 40 fastest growing middle-market companies in Georgia with their "Georgia Fast 40" award. MacStadium was proud to rank number six on the list.
Applicants were required to submit three years of verifiable revenue and employment growth records, which were validated by national accounting firm, Cherry Bekaert LLP. An ACG Selection Committee evaluated each application and conducted in-person interviews with all qualified applicants. All companies on the list are for-profit, headquartered in Georgia, and reported year-end revenues ranging from $15 to $500 million.
"These 40 companies represent more than 13,000 new jobs and $1.9 billion in revenue growth over the last two years alone," said Beth Turner, chairman of the 2018 Georgia Fast 40 Awards and Partner at Cherry Bekaert. "We are proud to honor these great companies in our communities."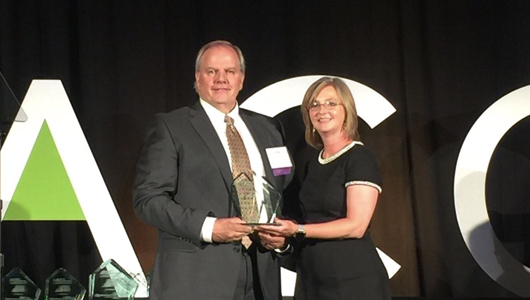 MacStadium CEO, Greg McGraw, receives the GA Fast 40 award
View the full list of Georgia Fast 40 honorees at www.acg.org.