MacStadium Turns 10!
December 13, 2021 marked the 10th anniversary of MacStadium. Our employees gathered in our Atlanta headquarters to celebrate this important company milestone and the holiday season.
Monday, December 13, 2021, marked an important moment in MacStadium history - our 10th anniversary!
What an amazing journey it's been this past decade, as we've continued to grow and thrive. Like any emerging company, we've encountered challenges along the way, but ultimately, it made us stronger.
From our earliest days of building our global data centers with Intel-based Mac minis and Mac Pros, to building our strong partnerships with Apple, VMware, and Anka, through the release of our own macOS virtualization layer Orka, to the release of Cloud Access with our partner Teradici, to the present with our data centers full of M1 Mac minis, we've continued to lead with innovation.
We also have some new solutions coming in 2022, including Orka 2.0 and Virtual Command, to continue on our journey of making Mac development simple, secure, and easily scalable for our customers.
Today, MacStadium employees gathered in our Atlanta headquarters to celebrate our 10th anniversary and the holiday season over a fun, festive lunch. It was a great afternoon and the perfect time of year to reflect on our past and toast to our future.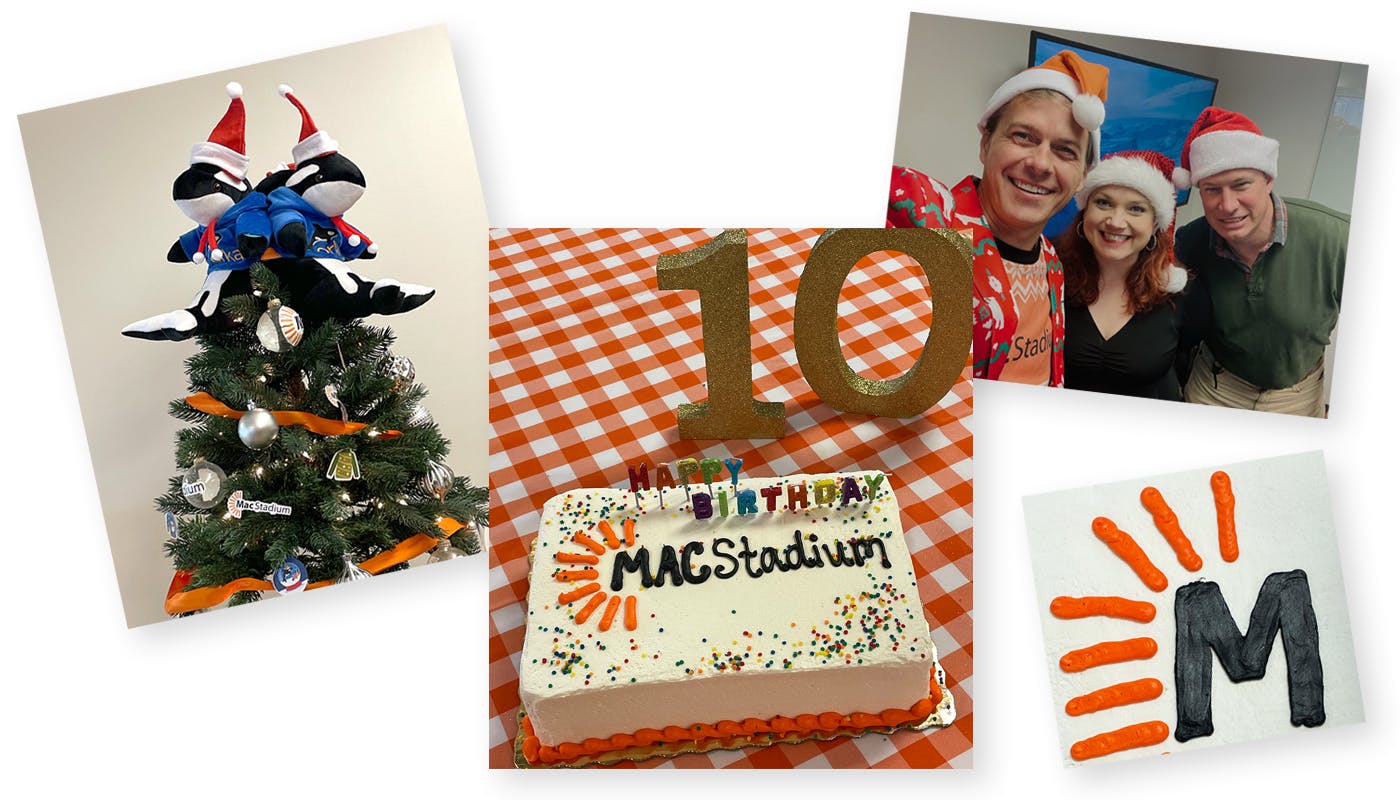 At this important moment in our company history we continue to be grateful to our customers, resellers, and industry partners for their continued trust, support, and belief in MacStadium. Here's to the next ten years of innovation, collaboration, and Mac enthusiasm.
On behalf of the team at MacStadium, we'd like to wish you Happy Holidays and a Happy New Year!
Have a favorite MacStadium moment from the past ten years? Share it with us on Twitter or drop us a line at hello@macstadium.com.